Joanna Campbell Slan is a woman who understands how two passions like storytelling and scrapbooking can come together in a novel. (I love that.) After all, she's written four scrapbooking mysteries. Before that she wrote many non-fiction books on scrapbooking. I am not the expert she is when it comes to one of the most popular hobbies in the U.S., but I totally get scrapbooking as "family storytelling" as she labels it.
Joanna's latest in her scrapbooking mystery series, Make, Take, Murder is currently available in bookstores across the country and on Amazon.
First, a bit from her press materials, then on to my five questions.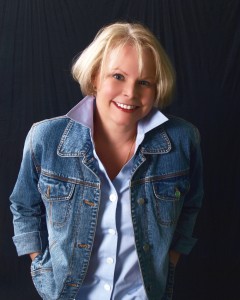 Joanna Campbell Slan is the author of the Agatha-nominated Paper, Scissors, Death. Kirkus Reviews has called it a "well-turned cozy," while Crimespree Magazine noted the book was "a wonderful read." Reader to Reader Reviews says, "Joanna Campbell Slan proves herself to be a top-notch mystery author with this very entertaining and intriguing debut." The second book in the series—Cut, Crop & Die—was  released June 2009.
Slan is also the author of eleven non-fiction books. Her college textbook, Using Stories and Humor: Grab Your Audience (Allyn & Bacon), has been praised by Israel's Prime Minister Benjamin Netanyahu's speechwriter. Five of her personal essays have appeared in Chicken Soup for the Soul books. Her seminal book on the art of scrapbooking, Scrapbook Storytelling, has sold more than 95,000 copies.
Slan has partnered with ScrapBook inspirations Magazine, a UK publication, to run an annual contest called "The Best of British Scrapbooking," which she started in 2002. Slan is also the co-founder of Forensic University of St. Louis.
Sharing Ideas Magazine named Slan one of the nation's top 25 professional speakers. She has spoken to groups of all sizes in England, Australia, Canada, and in Mexico as well as throughout the continental United States.
1.     You have a long history of writing about scrapbooking, not just in your fiction, but you've also written many non-fiction books on it. What is your fascination with scrapbooking?
Scrapbooking is family storytelling on paper with illustrations and ephemera—and I love all aspects of family storytelling. It's the glue that cements a family together. Our stories represent our unique quirks as a family, our history, and our hopes and dreams.
2.     As a non-fiction and fiction writer, I wonder how the two compare in terms of your process. Have you thought about it?
Actually, I've thought a lot about it. Non-fiction involves a finite universe. You have a topic, and you can research that topic, but the limits of that topic are the retaining walls. Fiction is limitless. You create an entire universe and all the rules that govern it. Non-fiction can be approached in a non-linear fashion. You simply need to find some organizing thread. However, fiction requires cause and effect. Therefore, it's more complex. There's a linear component. I can write non-fiction in bits and drabs, but to write fiction I need blocks of time. For non-fiction, I brainstorm topics/subtopics and make a folder for each. Then I drop in info as I work. I also outline fiction, but the story still offers lots of surprises.
3.     I know you can't say much about your new historical mystery series, but I'm looking forward to read it. Why have you moved into historical fiction?
Well, I can tell you that it's set in London in 1851, during Queen Victoria's reign. I chose historical fiction because I actually enjoy research, and I love giving my readers full entertainment value. I think they'll find this very entertaining, as I revisit a character most of us are familiar with, but I give her my own twist. And yeah, I lived in England for a while and now I have a super-duper excuse for going back!
4. There's been a lot of chaos in the publishing industry. What are some of the biggest changes you've noticed in your long career? Good or bad?
I think writers are more market-savvy and promotion conscious than ever before. I self-published very early on, and later we sold that book to Adams Media, an imprint of F & W. So I was shocked to hear fiction writers say that self-publishing could ruin your career—and now it looks as if self-publishing is actually launching careers. From everything I've seen and heard, it's harder than ever to get any sort of a contract. Which is why I'm so thrilled to be launching a new series. I've also seen Midnight Ink go from a new and relatively unknown imprint to a powerhouse, a real "talent central" publisher.
5.     I always ask this question. If you could be any kind of pie, what would it be and why? 😉
I would be a key lime pie because I'm a native Floridian, and I've come home to live here by the beach. Sigh. I love the mix of tart and sweet, crunch and smooth, because that's what I like in life…lots of extremes!
Visit her at www.joannaslan.com. Or read her blog at http://joannaslan.blogspot.com