Elizabeth Massie is one of the hardest working working-writers I know.  I mean she writes everyday, gets paid to do it, and this is how she makes her living. She situated her life so that she could do that—and we are all the better for it.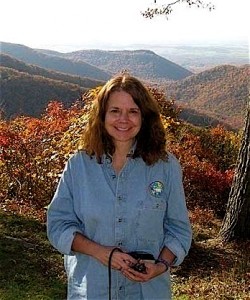 I met Beth several years ago and am pleased to call her a friend. Not only is she a wonderful and successful writer, but also a giving and kind person. She lives in my town and we've shared coffee, resources, and sometimes just listened to one another when that was all that was needed. It's a tough business. Having writer friends around is key to being a healthy person. Or at least it has been for me.
She writes novels, poetry, scripts, media tie-ins, and well, the list goes on and on. She currently has a media tie-in just published so I thought we'd start there.
Here's my questions for two-time Bram Stoker-award winning Elizabeth Massie.
1. How did you get involved with these tie-ins?
By the time I snagged my first tie-in gig (the novel Dark Shadows: Dreams of the Dark) I'd had several horror novels and tons of short stories published by some reputable commercial houses. While presenting a new novel idea to an editor at Harper Collins, she off-handedly mentioned their new property, Dark Shadows, and asked if I'd ever watched the show (I think she could tell I was of "that age"…someone who was actually alive and old enough when the original series aired to have seen it!) I said, "Are you freakin' kidding me? That was my favorite show!!" Or something to that effect. She asked if I'd like to write an original Dark Shadows novel, and I told her absolutely. I contacted writer friend Mark Rainey (another Dark Shadows fan) who eagerly agreed to be my co-author. The book was released 1999, and was chock-full of all the DS greats – Barnabas, Victoria, David, Elizabeth, Roger, Angelique. I still get messages from people begging me to do another DS novel. Unfortunately, at this point it doesn't seem that will happen. Dan Curtis passed away in 2006. I don't know what the current situation is regarding the property.
Since then I've also written an original Buffy the Vampire Slayer novel, the novelizations for two seasons of Showtime's series The Tudors, short fiction featuring Kolchak: The Night Stalker, the Spider, and Zorro. Most recently, I was commissioned by Random House and Bennett-Robbins Productions to write an original e-book prequel to the upcoming horror film Playback (starring Christian Slater and Toby Hemingway) See: http://www.randomhouse.com/book/216547/playback-light-and-shadow-short-story-by-elizabeth-massie The movie is a contemporary, terrifying tale of technology and supernatural power. My prequel takes it back about 100 years (to 1903) and offers a chilling set-up to it all.
2. Other than tie-ins, you write novels. What it your latest novel and your next?
My most recent novel (trade paperback and e-book) is my contemporary mainstream coming-of-age tale, Homegrown (December 2010, Crossroad Press). This novel is different from my other novels, which are either horror or historical fiction. It's a "small" story of teens at a Protestant children's home (a modern day "orphanage") and how shapes their lives even into early adulthood. http://store.crossroadpress.com/index.php?main_page=product_info&cPath=100&products_id=373 And at the moment I'm writing a hillbilly zombie novel 'cause, why not?
3. You started writing way before e-books. What do you think of all the new technology?
I don't have an e-book reader. I'm old-school and love to feel the heft of paper in my hands. However, I don't begrudge anyone an e-reader. Hey, as long as people are reading, I'm happy. And honestly, actual, in-the-flesh books will still be around as long as folks like me want to have and hold them, from this day forward, for better or for worse… Wait. What?
4. What is your attraction to the horror genre?
I like exploring the depths of human emotions. I like seeing what characters will do in the most dire of situations. Do they have courage on which to draw? Will they crumple, fold, and fall apart like a wet napkin at a Ruritan pot-luck? When characters (people) are stripped of their personas, bravado, comfort zones, and other props of their ordinary lives, how do they survive? Do they survive? I'm fascinated with this aspect of human nature. Sometimes the worst comes out. But sometimes the best is found, and in most of my horror novels, there is hope at the end.
Of course, in some of my short horror fiction it's just scary for the fun of the scare. Heh…
5. If you could be a pie, what would it be and why?
Two answers:
1. a stinky, muddy, stick pie because then no one would devour me.
2. a creamy, tart-sweet Key lime pie because then everyone would love me (much like the acclaimed Oscar Mayer wieners.)
Please check out Elizabeth's website here: http://www.elizabethmassie.com.
Please note: The Five Questions feature with authors is a new feature on my blog. Please check out some of the other writers I've interviewed under "Fiction," Next week, the fabulous Therese Walsh.