This weekend I cooked up a storm. Fall does that to me. I just love the cooler weather and fall food. The next book in my Cumberland Creek Series is set in the fall so my scrappers are enjoying all kinds of good fall food. So, as I'm cooking food from SCRAPPED and thought I'd give you a few recipes along the way, instead of waiting until the book comes out in January.  Some new recipes will also be included in my newsletter, so don't forget to sign up for it.
My daughter, Emma LOVED this soup, or should I say my second version of this soup.
The original version called for one teaspoon of cumin. In my first batch, the spice overpowered the soup. I thought it was okay and my husband loved it. But my pumpkin-loving daughter didn't like it at all. So I made another batch, cut back on the cumin and added pumpkin pie spice. Now, that put a smile on Emma's face.
In one of the opening scenes in SCRAPPED, my characters are enjoying some spicy pumpkin soup.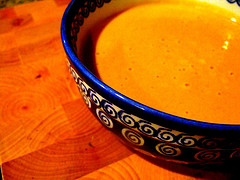 Easy Spicy Pumpkin Soup
1 (15 oz.) can pumpkin
1-1/2 cup reduced sodium chicken broth
1 cup low fat milk (2%)
1/2 teaspoon ground cumin
2 bay leaves
1 teaspoon pumpkin pie spice, or to taste.
Mix first 5 ingredients and bring to simmer over medium heat. Simmer for 10 minutes.
Season to taste with salt and pepper.
Corn Pudding
I also made corn pudding with the classic Jiffy cornbread mix recipe. I don't know who first came up with this, but it's everywhere—and there's a reason for it. It's easy to make and it's good. I like it because there's no added sugar. It really is sweet enough without the sugar and my family gobbled this right up.
Once again, my scrappers are attending a funeral and this dish was featured at the meal afterward.
Jiffy Corn Pudding
1 can whole kernel corn, drained
1 can cream corn
1 stick butter
1 (8 oz.) pkg. sour cream
1 box Jiffy corn bread mix
Melt butter in dish. Put in corn and cream. Mix together well. Sprinkle corn bread mix over corn and stir all together. Bake 45 minutes at 350 degrees.