At the end of the month the second book in my Cumberland Creek Mystery Series will be published. SCRAPPED takes place a full year after SCRAPBOOK OF SECRETS. I think a lot of series are spaced closer together and maybe the others in my series will be. But in the mean time, I went back and looked at some of my old posts where I introduced you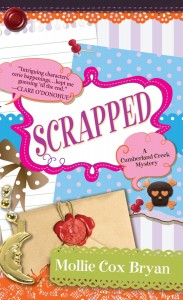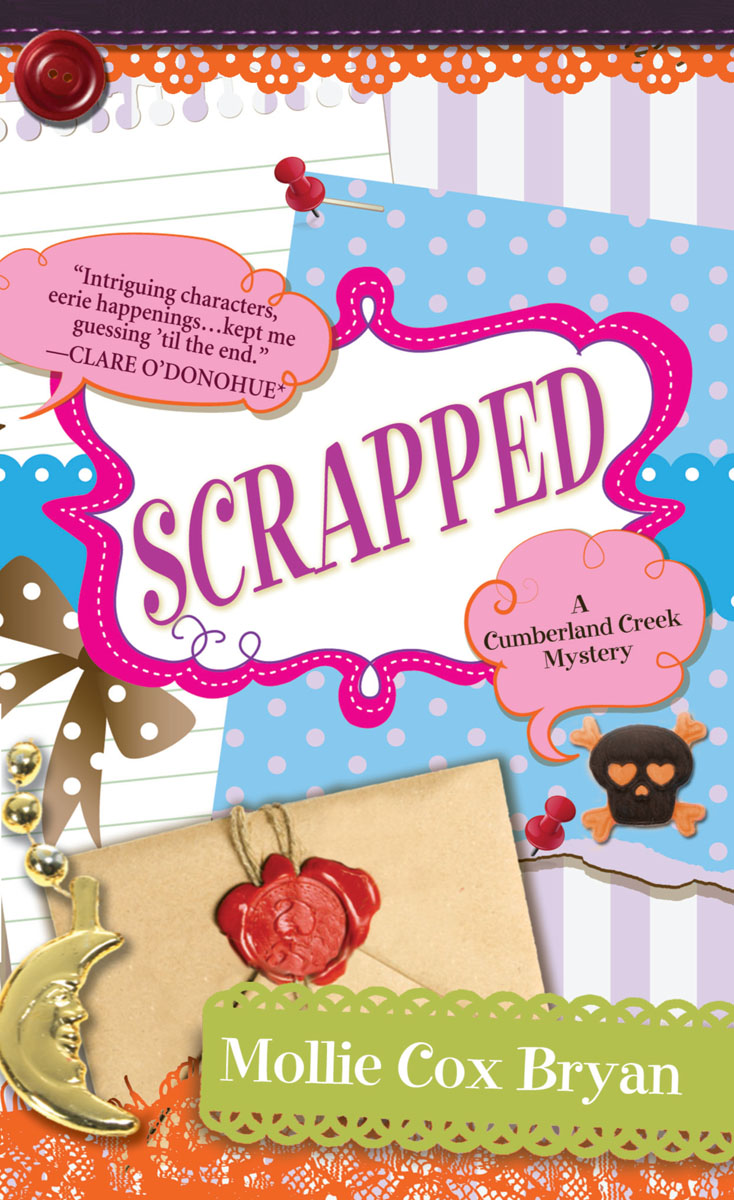 to my characters and thought it would be fun for you to revisit before the next book comes out. And who knows…maybe some new reader will happen on this post and decide to pick up both books.  Next post: The men of Cumberland Creek.  Stay tuned for more on Cookie Crandall, my new character.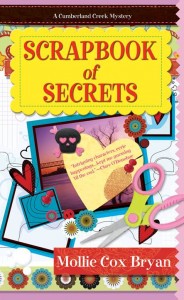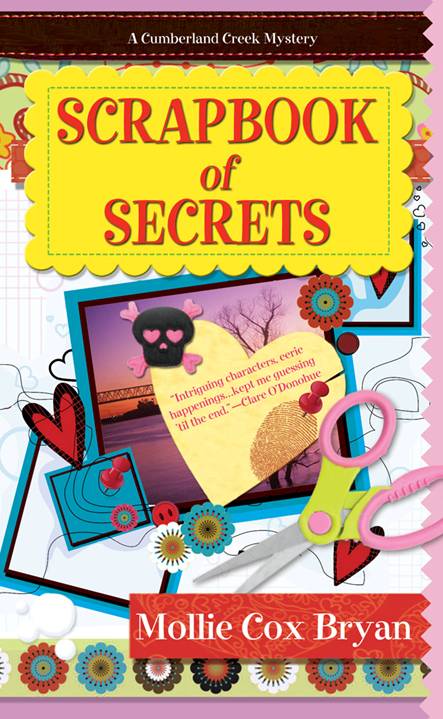 Intro to my characters
My Cumberland Creek Mystery series revolves around a group of women in a small but growing Southern town. They get together to scrapbook, eat, and as it happens, to solve murders.
The story is told from three main characters points of view. They are surrounded by a secondary group of women and men. There's also a third tier of characters I like to call my "walk-ons." I thought I'd introduce you to the main three characters and next week I'll tell you more about the secondary characters. The third group of characters shifts from book to book.
Annie
Annie Chamovitz is 36-years-old and has "retired" from the rough and tumble world of Washington, D.C., investigative journalism. She and her husband Mike moved to Cumberland Creek from Bethesda, Md., a posh suburbanish city.  Her family is the only Jewish family in town.  When the book opens, she is a stay-at-home mom to Sam and Ben.  After being in Cumberland Creek about a year, she is finally invited to a weekly scrapbooking crop. She goes to the scrapbook gathering—reluctantly. Visions of frilly stickers and glitter paper dissuade her. Soon, she is part of the group, finding she loves the "puzzle" aspect to scrapbooking.  Soon enough, she also gets sucked back into freelance journalism.
A narrative bit about Annie:
The first time Annie was asked the most popular question new residents were asked, which was "What church do you attend?" she grimaced. She felt violated. She was used to moving in an urban community in which such questions were not asked.
My favorite quote from Annie:
"I don't need my husband's permission, Detective, just his support. This is the twenty-first century," she said.
Vera
Vera Matthews has just turned forty. She is the owner of the only dancing school in town. She has never quite resolved her longing for the stage. So, among other things, she delights in changing hair color and make-up palettes. She is married to her college sweetheart, Bill Ledford. She grew up in Cumberland Creek, went to college in New York City, and danced professionally for a brief period of time. Because she's childless, she makes scrapbooks for her students and herself.
A narrative bit about Vera:
It wasn't as if she kept secrets from her dearest friends. Some things were too private to talk about at a crop. After all, crops were primarily for scrapbooking. Oh yes, there was the social aspect that one couldn't deny. But nothing deep or heavy should be broached.
My favorite quote from Vera:
"I may be a bitch, but I work too hard for my money to go and have some pop psychologist to charge me to tell me about the psychological aspect to a hobby. For godsakes. Some people just sap all the fun out of everything," Vera said, taking a bite of the cake.
Beatrice Matthews
Beatrice Matthews is Vera's eighty-year-old mother and is not a scrapbooker. She is a quantum physicist and has conversations with her dead husband, who appears in ghost form throughout the book—but only to her. She grew up on Jenkins Mountain, one of the many mountains surrounding the town of Cumberland Creek. At the beginning of the book, Bea is stabbed.
A narrative bit about Bea: Now this knife in the neck business concerned her. Who would do such a thing? And what would have happened if it had not been lodged just exactly where it was? She could have died—or worse, been paralyzed, at the mercy of the likes of Vera and Sheila, two mid-life fools if ever there were.
My favorite Beatrice quote: "Your Daddy bought it for me and taught me how to use it. I feel safe with it here next to me in my nightstand. So over my dead body will I get rid of it.  In fact, you can bury me with my gun in one hand and Leaves of Grass  in the other," Beatrice said.
 The Second Tier of Characters
Three other regular croppers meet every Saturday night—DeeAnn. Paige, and Sheila, who is the scrapbook consultant in the group.
Since my last post was a bit long, I thought I'd keep it short this time and tell you a bit about DeeAnn.
DeeAnn has been in Cumberland Creek for twenty-five years—and she's still considered a newbie. She married a local man—her college sweetheart—who is the high school principal. She's got two daughters, both in college. Fair skinned and freckled, she's a large, muscular woman—with a baker's arms and heart. There's nothing she likes better than feeding people. She brings the most delicious snacks to crops. Her bakery is the only one in town. There are others on the outskirts of Cumberland Creek. As a baker, her focus has always been on bread, cake, and cookies. (Pamela's Pie Palace has the pie market cornered.) In the first book, DeeAnn hires an intern who has a way with muffins.
A quote from DeeAnn:
"Classical tonight ladies?" Sheila asked.
"Hell no," DeeAnn said, getting up to head for her bag, pulling out a CD.  "Let's hear some Stones."
Paige
Paige Swanson grew up just outside of Cumberland Creek proper—sort of between Jenkins Mountain and the town. She grew up in the modern Mennonite church, which means that to look at her, you'd never know she was a Mennonite. In fact, you might think "aging hippy" when you first see Paige, even though that is not what she is at all.  She is fond of tie-dye shirts and dangly earrings.  In fact, when Annie first meets Paige she thinks her name doesn't suit her at all. "She looks more like a Willow or Moonbeam."
Paige is the high school history teacher. She's the mother of one son—Randy, who is a chef living in Washington, DC, with his partner. She has not spoken to him in years. This issue is a dark cloud hanging over her that bursts from time to time.  His homosexuality goes against everything she believes in—or so she thinks.
Like all Cumberland Creek Croppers, Paige is a pretty good cook, but she loves to make cakes and cupcakes. Her specialty is red velvet.
Sheila
Sheila is one of the most interesting characters in the book—she is the scrapbook consultant who refuses to allow her children into basement, where she holds her weekly scrapbooking crops. She is also an avid runner, rarely missing a day.
Sheila and Vera grew up together—their mothers were best friends. Sheila's mom passed away years ago from breast cancer—and so this is an issue that is near and dear to Sheila's heart. She runs in a lot of breast cancer awareness marathons and so on.
Sheila's scrapbook room, house, and scrapbooks are immaculate—but Sheila herself rarely is. She wears wrinkled mismatched clothes at times and hardly bothers brushing her hair—or wearing lipstick.
She and Beatrice pick on each other incessantly—but underneath, Beatrice and Sheila care for one another. One of the ways Sheila endears herself to Bea is by making sure she's well-stocked in pie.