A few weeks ago, I was contacted by My Memories Suite, a digital scrapbooking company, to ask if I'd review their product. They provided me with a copy of their program for an honest evaluation.  Because I've been so busy with SCRAPPED's launch, it's taken me awhile to review it and I've decided to review it in at least two parts.
I'm fascinated by digital scrapbooking and I've written a post about it here. I've been exploring several options and really liked several apps and programs. Until this point, I likes using Coolibah on my iPad the best, but it had several drawbacks. Mostly, you can only use their designs. I'm sort of picky about that sort of thing. Most every-day scrapbooking designers are just not my cup of tea, though I've able to find some good designs on Coolibah.
But it rubbed me the wrong way. Why shouldn't I be able to buy the design I like from elsewhere and use on Coolibah?
Well, with My Memories Suite you can do that—and so much more. You can import digital designs from elsewhere and use their program. So far it's been really easy to use. I've stuck with some simpler options because I'm just learning. And I used only the designs that come with the application until I get the hang of it.
Basically, it's much less complicated than, say, Photoshop Elements, which I have, but really don't have the time to get to know better because of the learning curve. With My Memories Suite, I can do basic scrapbooking without knowing much about all the other, more advanced options it offers. I can kind of ease into it.
That is one classy program.
This is the first page I created. It took about 15 minutes.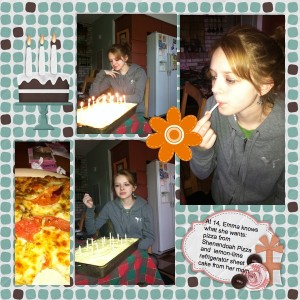 It's pretty basic. But you can add more embellishments to your designs. You can also do fancy fonts and shadows and the like. They are included in the basic package, which gives you A LOT to choose from.  And the interface makes it very, very, easy to figure things out.
Next, I tried to do few thematically-linked pages to capture a day of vintage shopping that I had with my girls. This designs is one of their's, meaning the pages and elements. They provide you with the pages, which act as a sort of template. Very easy to manipulate. And extremely intuitive.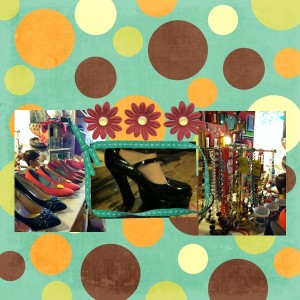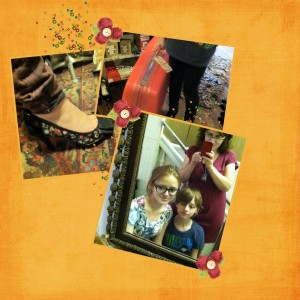 I plan to use this digital scrapbooking software a lot. I hope to do so within the next few weeks and get back to you on some of the more advanced options and I wonder if working with other designs will be as easy, or if there will be some issue there.
But I have to tell you that so far, I am thrilled with this program and the possibilites of it. Even if I just continued with simple projects, with My Memories included or purchased designs, it would be well worth the $39.97. But you don't have to pay that much if you use this code: STMMMS1272. You should get $10 off. GREAT NEWS!
But even better news is that you have an opportunity to win this program for free. Please check out the My Memories Suite scrapbook kit designs here and tell me which one inspires you the most and why. I'm always looking for inspiration, how about you?
Check them out and leave a comment, here, on my blog.
Because I want you to take you time and peruse those designs, you have until February 13 to comment and the winner will be announced on February 14, Valentine's Day. Remember, if you don't win, you can still take advantage of that $10 off and have a blast scrapbooking digitally.