I ran into this post on Two Peas in a Bucket the other day giving journaling tips for self –portrait pages. I loved it. One of the thing I talk about in my journaling workshops is how we become so busy scrapbooking and journaling about our families that we don't often think about it for ourselves. We think of it as being, I don't know, selfish, perhaps. But it you think about it another way, you will see it as a gift to your family and future generations. How cool to know that someday your grandchild could pick up a book full of journaling about yourself. What I wouldn't give to have something like that about my grandparents.
In SCRAPPED, Cookie Crandall keeps a "Scrapbook of Shadows," which is a personal spiritual journal. Giving your scrap-journal a theme  like this might be a way into it for some of you. It could start off as a record-keeping exercise. For example, I have a dear friend who makes fabulous quilts that she often gives away. She puts so much of herself into those quilts. What was she thinking when she chose the colors, fabrics, and patterns? How cool would a scrapbook full of photos of her quilts and journaling about them, or about the person she gives them to be?
In SCRAPPED, I offer everyday tips in the back–just like I do for all of my scrapbooking mysteries. I'm not an expert scrapbooker and don't pretend to be. I'm just a mom, wife, sister, daughter like you. But I do love this hobby and I am a writer, so I love to share what I've learned.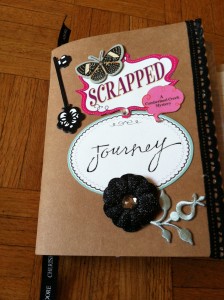 How to Make Your Own Scrapbook of Shadows
A "book of shadows" is actually a book that modern witches or pagans often keep; it is a journal of sorts about their beliefs. It often includes rituals, spells, prayers, and personal reflections. When scrapbooking techniques are used to make the book, the result is a "scrapbook of shadows,"  which is less like a journal. No matter what your religious or spiritual beliefs, a scrapbook of shadows can be a worthwhile and creative endeavor, as well as a tool for personal growth. Choose a special scrapbook, binder, or journal for your scrapbook of shadows, something that inspires you.
Here are some things you might include in a scrapbook of shadows:
Prayers
Poems
Photos of meaningful items or people
Pressed flowers and/or herbs
Astrological information
"Found items" from a special day, such as feathers, leaves, wrappers, and so on
Notes about your dreams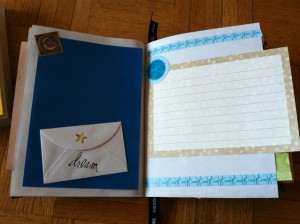 Notes about spiritual or religious events/holidays
Special symbols scrapbook
Other Ideas for More Reflective Scrapbooking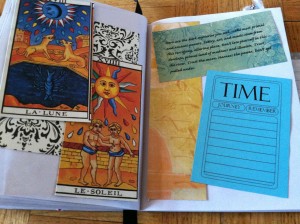 A yoga scrap-journal. In Scrapped, Annie is journaling her yoga classes.
An inspiration scrap-journal. Gather photos, magazine clippings, bits and pieces of art, and poetry centered around a theme that inspires you.
A gratitude scrap-journal. Gather photos, magazine clippings, bits and pieces of art, and poetry that express what you are grateful for.