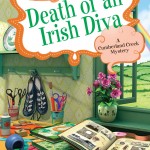 Greetings, friends!
DEATH OF AN IRISH DIVA will be out next month! February 4, to be precise—but who's counting? (Raising my hand!)
I'm so excited about this book that I want to offer a pre-launch special prize for you. From now until February 4, pre-order the book, send me proof of purchase, or a screen shot of the purchase, and you are automatically entered to win a $30 gift card from Amazon or B & N. Your choice! You can also order the book and Tweet about your order–from Amazon–instead of the proof of purchase. I'll be looking for those Tweets daily.
The address to send that proof of purchase is molliebryan@comcast.net. My Twitter account is @molliecoxbryan.
May the luck of the Irish be with you!