Today is the day! DEATH OF AN IRISH DIVA  is officially out today!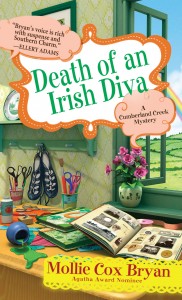 I've gotten a couple of wonderful reviews–one from Criminal Element. Another from Celtic Lady, who is the first on my blog tour. Follow along for more fun!
As ever, I love to hear from readers. I'm available for book clubs, libraries, and other events.
Here's a little about DIVA, followed by my blog tour schedule.
Spring is in the air, but the ladies of the Cumberland Creek Scrapbook Crop hardly have time to stop and smell the roses. Not when famed Irish dancer Emily McGlashen is found murdered in her studio just after the St. Patrick's Day parade–and one of the Crop's own members is the prime suspect. Vera's dance studio may have suffered when Emily waltzed into town, but the croppers know she's not a vengeful murderer. Lucky for her, co-scrapbooker Annie is a freelance reporter eager to vindicate her friend. What she discovers is a puzzling labyrinth of secrets that only add question marks to Emily's murder. Just when it seems they've run out of clues, an antique scrapbook turns up and points the croppers in the right direction–and brings them face to face with a killer more twisted than a Celtic knot. . .
Blog tour Schedule:
February 4 – Celticlady's Reviews – Review
February 5 – A Blue Million Books – Interview
February 6 – Books-n-Kisses – Review
February 7-  Queen of All She Reads – Guest Post, Giveaway
February 8 – Booklady's Booknotes – Review, Interview, Giveaway
February 9 – Dr. Pepper Diva – Review, Giveaway
February 10 – dru's book musing – Guest Post, Giveaway
February 11 – Jane Reads – Review, Giveaway
February 12-   Thoughts in Progress – Review, Guest Post, Giveaway   
February 13 –<Books Are Life – Vita Libri – Review, Giveaway