I was thrilled to attend Kensington's BEA (Book Expo America) party again this year. It was wonderful to see some of the people the behind the scenes who work so hard for the books I write. And you never know what other writers you'll get a chance to chat with—and that always a good thing. This year, among others, I met the fabulous New York Times bestselling author, Rebecca Zanetti, author of the Dark Protector Series from Kensington, the Sin Brother Series from Grand Central, and The Maverick Montana Series from Entangled. (Yep, three series, with three different publishers. A-mazing.) I also met Amy Reade, who is a debut author with a new book coming out July—"Secrets of Hallstead House." (I have already asked my editor for a copy, dontchya know. The book looks very, very, very good!)
Last year, I felt an overwhelming sense of pride as I listened to Steven Zacharius, Chairman, President & CEO of Kensington Publishing speak at the party. I did this year, as well. I am honored to be a part of an independent publishing company now celebrating 40 years. No small accomplishment in today's publishing arena.
I also loved catching up with Martin Biro, my editor. Here's a photo from last year.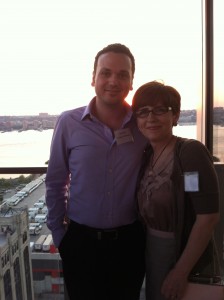 The next day, I wandered around the Javits Center where Book Expo America is held. The Book Expo used to be exclusively for industry people from my understanding. It was and is the place where book sales are made, international rights are sold, and publishers push their newest rising stars. But they've become reader-friendly and actually have a day designated for readers. But speaking of rising stars, my friend Lori Rader-Day was there signing books. Her new book THE BLACK HOUR is fabulous. Take it from me—I'm reading it right now. (Click on her name to find out more about her and her new book.)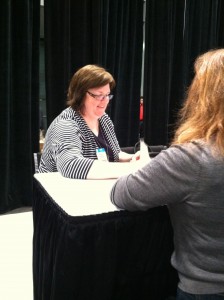 Also fabulous was the Mystery Writer's of America booth. They had quite a line-up of mystery writers signing FREE BOOKS all day long. It was hopping every time I walked by.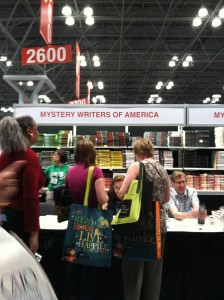 I ran into bestselling mystery author Tonya Kappes and bestselling romance author Nancy Naigle, who had a fabulous booth full of colorful giveaways. (Click on their names to go to their websites. You won't be sorry!)
Tonya has just sold her  extremely successful self-published series to HarperCollins. Nancy was on a panel that I moderated at the Virginia Festival of the Book. So this is the second time this year I've actually shared space with her. Check both of them out.
I was happy to see this at one of the booths. Yes, scrapbooking, dear readers. You know, how I feel about that.
Speaking of scrapbooking and books, have you downloaded your copy of SCRAPPY SUMMER?