Note from Mollie: We recently lost my mother. I had forgotten about this essay until a reader pointed it out. (It's one of the essays in HONEY, I'M SORRY I KILLED YOUR AQUASAURS.) The Holidays will be very hard for my family this year without her. Even though I've spent many Holidays away from her, mom was always a phone call away. I won't be baking this year. Maybe next year. 
Here's the essay:
When I think of Christmas at home, which is in Western Pennsylvania for me, I think of the light-filled city of Pittsburgh and its beautiful window displays, traipsing through the cold and snow with my dad to cut a Christmas tree, and the myriad ways in which my mom made the holidays special—mostly with her baking.
Mom was a serious holiday baker, often starting at least month before Christmas. After she stepped out of her stay-at-home mom role and became a working mom, she continued baking, mostly on the weekends and sometimes into the wee hours of the morning. She and my Aunt Mart would start on a Friday evening after work—making tiny nut cups (or pecan tassies) where they spooned the sweet nut mixture into the mini-muffin sized dough cups and baked them, filling kitchen with the smell of nuts, sugar, and cinnamon. A western Pennsylvania tradition, these nut cups were offered up at every home we visited.
People don't seem to visit much anymore, let alone share baked goods when they do. Then, we visited and sampled and compared all the goodies, often exchanging recipes or tips on fashioning the more complicated treats, like pizzelles, or lady locks, and poppy seed rolls. I still have not attempted to make the oblong loaf that holds a splendid spiral of deep blue poppy seed. It's time-consuming and needs skilled hand-eye coordination—both things I definitely lack. I prefer to buy it from my favorite bakery in Butler, Pa.—that is, if I can't get a loaf from a friend or relative.
Even my mother doesn't make the roll any more. Every year, she cuts back more and more on her baking. "I just don't have the energy," she says, "And people don't eat like they used to and it goes to waste."
Wasting food was a sin in my house—but the holiday gluttony was not. Often we ate until we couldn't eat anymore, then would stretch out on the couch, a bed, or a floor, covered with a blanket and take a snooze until we were hungry for more. We were in a kind of food-induced stupor through out most of our holidays. No wonder my memories of them are so wonderful.
We had our stock of usual goodies—poppy seed roll and cake, pumpkin bread, cherry squares, pizzelles, pineapple square and nut cups. But one of my favorites was my Mom's homemade brownies, which I could gorge on to this day. Made with Hershey syrup, they are probably the moistest brownies I've ever eaten.
Emma and Tess love to get in the kitchen with me and make a mess. Usually, I am fairly strict about sugar, fat, and overly processed food. But during the Holidays, I give in to the pull of my children's longing for it. We make the cookies, pile on the food-colored icing and colorful sugar, and we often eat them with packaged cocoa. I keep telling myself that one of these days I will do it all from scratch, which would make it a little healthier, at least.
While we are baking and decorating our goodies, I often talk to the girls about their grandparents and great-grandparents and a give them some sense of why I insist on making certain treats like the pizzelles (my grandmother's specialty) or the poppy seed cake (my mother's). After all, it doesn't matter what your family tradition is—what's important is that you have one.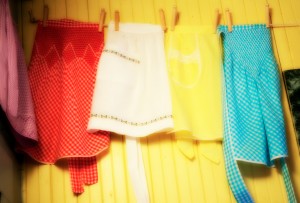 Recipe for Mom's Poppyseed Cake
Ingredients
3 cups all-purpose flour
1/2 teaspoon salt
1 1/2 teaspoon baking soda
2 cups sugar
10 ounces, vegetable oil (You can use less, Mom says, but it won't be as moist.)
4 eggs
13 ounces (1 can) of evaporated milk
1 teaspoon vanilla
1 jar Baker's Poppy Seed Filling (Mom is adamant that Baker's is the best kind to use.)
Method
Sift all the dry ingredients together. Then mix in all your liquids and eggs. (You can add nuts if you want; Mom never did. I think black walnuts would be fabulous.) Mix for 2 minutes on medium speed.
Pour into a well-greased and floured tube pan. Bake at 350 for 50 to 60 minutes.
Cool the cake at least five to 8 minutes before taking it out of the pan. Mom sprinkles powdered sugar on it. But a rum glaze would be lovely, too.