NEW SERIES!
I'm very excited about my new series, which is a craft retreat mystery series, set in the fictional town of Indigo Gap, North Carolina.  The first book, DEATH AMONG THE DOILIES, published in August 2016.
Here's a bit about it:
"The perfect weekend getaway: crafting, food, and a murder or two!"—New York Times bestselling author Lynn Cahoon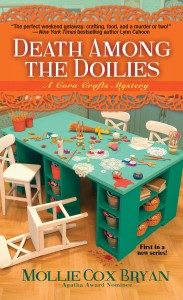 For thirty-something blogger Cora Chevalier, small-town Indigo Gap, North Carolina, seems like the perfect place to reinvent her life. Shedding a stressful past as a counselor for a women's shelter, Cora is pouring all her talents—and most of her savings—into a craft retreat business, with help from close pal and resident potter Jane Starr. Between transforming her Victorian estate into a crafter's paradise and babysitting Jane's daughter, the new entrepreneur has no time for distractions. Especially rumors about the murder of a local school librarian . . .
But when Jane's fingerprints match those found at the grisly crime scene, Cora not only worries about her friend, but her own reputation. With angry townsfolk eager for justice and both Jane's innocence and the retreat at risk, she must rely on her creative chops to unlace the truth behind the beloved librarian's disturbing demise. Because if the killer's patterns aren't pinned, Cora's handiwork could end up in stitches . . .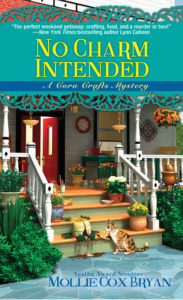 (April 2017) Settling into her new life and career in small-town Indigo Gap, North Carolina, Cora Chevalier is preparing to host a "wildcrafting" retreat at her Victorian home. But a specter hangs over the venture when beloved local nanny Gracie Wyke goes missing. Amidst leading their guests in nature hikes, rock painting and making clay charms, Cora and her business partner, Jane, team up with Gracie's boyfriend, Paul, to launch their own investigation into her disappearance when the local police prove unhelpful.
Cora and her crafters take Paul in, believing he is in danger and not the suspect police have made him out to be. However as they uncover new clues and a body turns up at a local abandoned amusement park, Cora and Jane begin to question their decision. With more questions than answers arising, is Cora crafty enough to untangle a knot that could put an innocent in jail—and permanently destroy her reputation?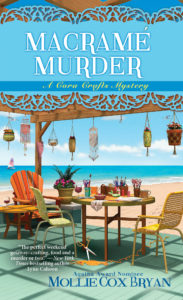 (August 2017) As the head of a bustling crafting retreat, Cora Chevalier could use a break of her own. So she and her creative cohorts temporarily swap small-town Indigo Gap for the Sea Glass Island Craft Retreat, where they teach classes and create beachy crafts like shell mosaics and sea glass chimes. Cora and her boyfriend Adrian are enchanted by their surroundings—especially the stunning wedding and blissful newlyweds they encounter on the beach. But awe becomes shock when the bride turns up dead the next day . . .
The woman's death appears to be the result of a severe jellyfish sting. But when it's revealed that she was murdered and Adrian becomes a suspect, Cora must hitch the real culprit to the crime—and fast. Because it just might take everything she has to crack a case more twisted than her most complex macramé knot!