You asked–here it is! Here's the Cumberland Creek Mysteries in ORDER!
******"Scrapbook of Secrets" was nominated for an Agatha Award for the "Best First Novel of 2012."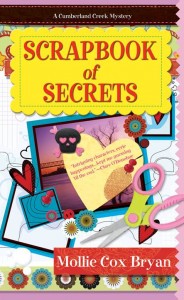 Having traded in her career as a successful investigative journalist for the life of a stay-at-home mum in picturesque Cumberland Creek, Virginia, Annie can't help but feel that something's missing.  But she finds solace in a local circle of scrapbookers united by chore-shy husbands, demanding children, and occasional fantasies of their former single lives. And when the quiet idyll of their small town is shattered by a young mother's suicide, they band together to find out what went wrong…Annie resurrects her reporting skills and discovers that Maggie Rae was a closet scrapbooker who left behind more than a few secrets – and perhaps a few enemies.
As they sift through Maggie Rae's mysteriously discarded scrapbooks, Annie and her "crop" sisters begin to suspect that her suicide may have been murder. It seems that something sinister is lurking beneath the town's beguilingly calm facade – like a killer with unfinished business..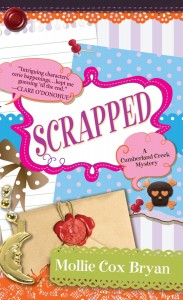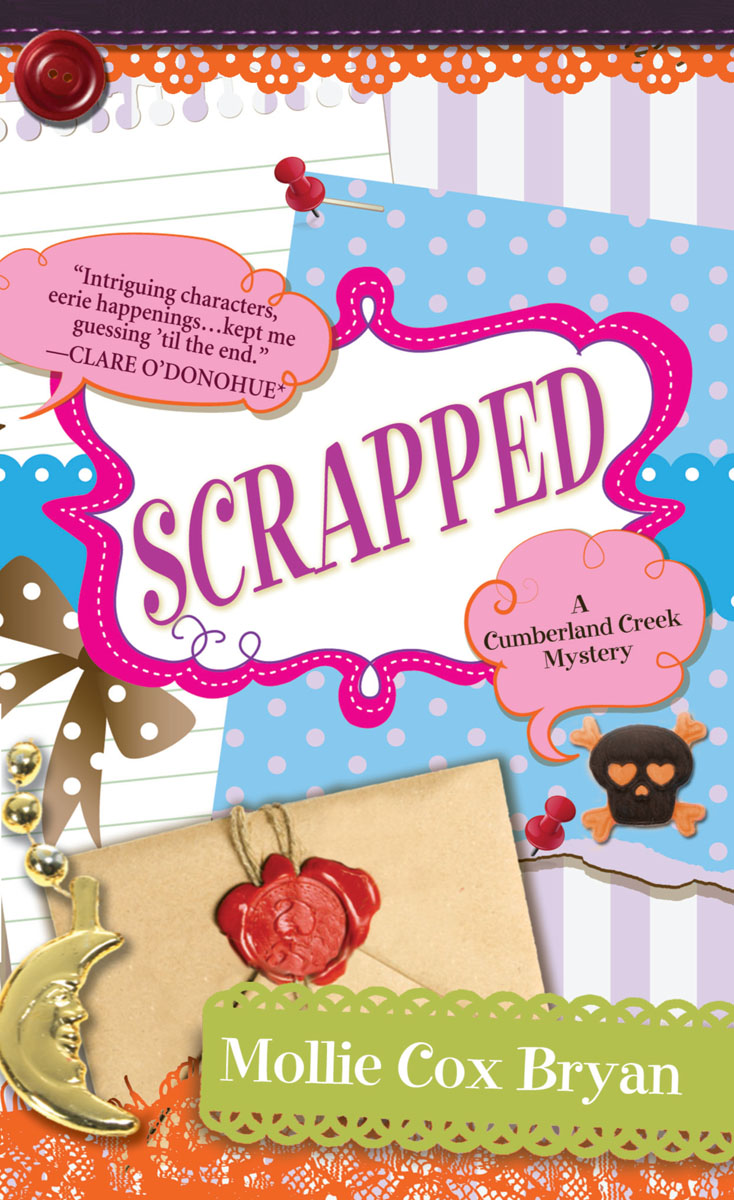 SCRAPPED (CUMBERLAND CREEK MYSTERY #2)   ****Nominated for a Library of Virginia People's Choice Literary Award.
The ladies of the Cumberland Creek Scrapbook Crop are welcoming an eccentric newbie into their fold. A self-proclaimed witch, Cookie Crandall can whip up a sumptuous vegan meal and rhapsodize about runes and moon phases with equal aplomb. She becomes fast friends with her fellow scrapbookers, including freelance reporter Annie, with whom she shares shallow roots in a community of established family trees. So when Cookie becomes the prime suspect in a series of bizarre murders, the croppers get scrappy and set out to clear her name. Annie starts digging and discovers that the victims each had strange runic patterns carved on their bodies – a piece of evidence that points the police in Cookie's direction. Even her friends begin to doubt her innocence when they find an ornate, spiritual scrapbook that an alleged beginner like Cookie could never have crafted. As Annie and the croppers search for answers, they'll uncover a shockingly wicked side of their once quiet town – and a killer on the prowl for another victim.
 DEATH OF AN IRISH DIVA (CUMBERLAND CREEK MYSTERY #3)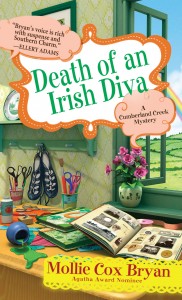 Spring is in the air, but the ladies of the Cumberland Creek Scrapbook Crop hardly have time to stop and smell the roses. Not when famed Irish dancer Emily McGlashen is found murdered in her studio just after the St. Patrick's Day parade–and one of the Crop's own members is the prime suspect. Vera's dance studio may have suffered when Emily waltzed into town, but the croppers know she's not a vengeful murderer. Lucky for her, co-scrapbooker Annie is a freelance reporter eager to vindicate her friend. What she discovers is a puzzling labyrinth of secrets that only add question marks to Emily's murder. Just when it seems they've run out of clues, an antique scrapbook turns up and points the croppers in the right direction–and brings them face to face with a killer more twisted than a Celtic knot. . .
SCRAPPY SUMMER (CUMBERLAND CREEK MYSTERY #3.5) NOVELLA (e-novella only)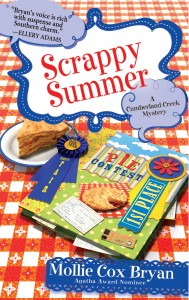 Summer's in full swing, and it's time once again for the Cumberland Creek County Fair Pie Competition. DeeAnn Fields just knows this is her year to finally win with her brilliant apple green chili pie. But after the judges take one bite and spit it back out, ordering DeeAnn to leave at once, she's baffled as to what went wrong. . .until she discovers someone sabotaged her pie.
Banding together to find out who hated DeeAnn enough to ruin her chances of winning, the ladies of the Cumberland Scrapbook Crop scrap their summer plans to get to the bottom of this mystery so that they can return to what they do best–cropping and crafting!
A CRAFTY CHRISTMAS (CUMBERLAND CREEK MYSTERY #4)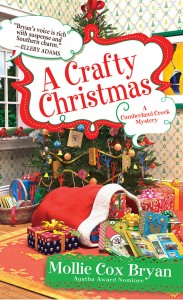 Christmas is just around the corner, and the ladies of the Cumberland Creek Scrapbook Crop are thrilled when Sheila wins the first place prize in a scrapbooking design contest: a ten-day scrapbook-themed cruise in the Caribbean. Vera and Paige decide to tag along, which should pose the perfect opportunity to learn some new techniques, mingle with fellow croppers, and get in some rest and relaxation before the chaos of Christmas. But when Sheila finds a famous crafter dead, and investigators determine she was poisoned, the luxury cruise veers toward disaster as Sheila becomes the number one suspect–or was she really the intended victim? Just as the croppers begin un-wrapping the truth, a storm strands them at sea, and they'll find it's harder than ever to survive the holidays with a killer on deck. . .
SCRAPPILY EVER AFTER (CUMBERLAND CREEK MYSTERY #4.5) e-NOVELLA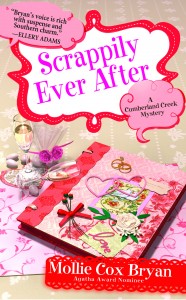 Springtime may be for lovers, but for one of the ladies of the Cumberland Creek Scrapbook Crop, it's turning into a season of conflict. Still smarting from her divorce, Vera can't decide whether to accept a marriage proposal. She doesn't want to spoil a good thing by putting another ring on her finger. On the other hand, her mother Beatrice has flown off to France with the man of her dreams. But when folks claim to have seen Bea around town and Vera can't reach her, she starts to search for her mother. Is Bea still in France? And if not, what has happened to her?
As Vera tries to solve the mystery of her missing mother, other problems crop up for the scrapbookers, including a health crisis in Sheila's family and a surprise announcement from Paige's son. If only life could be as neat and pretty as a scrapbook album! Some of the answers to their recent dilemmas will bring surprises that the croppers could never have predicted!
SCRAPBOOK OF THE DEAD (CUMBERLAND CREEK MYSTERY #5)—coming Sept. 29!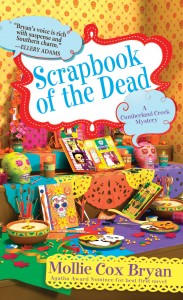 Halloween means spooky scrapbooks for the Cumberland Creek Scrapbook Crop, but what's been happening around town is truly frightening. First a dead woman is found in the freezer at Pamela's Pie Palace, and the next day a second woman is found murdered by the river. Reporter Annie Chamovitz learns the victims were sisters and is certain their deaths are linked. Most bizarre of all, both women were found clutching scrapbook pages.
As their Saturday night crop quickly becomes an opportunity to puzzle out the murders, the ladies begin to wonder if Pamela is hiding more than her secret recipes for delicious pies–or if the crimes are related to the startling discovery that there are gangs in Cumberland Creek. As All Hallows Eve approaches, the crafty croppers must cut and paste the clues to unmask a deadly killer.
Available at your local bookstore, Amazon, B& N, and Kensington Publishing.