I'm back from Malice Domestic in Bethesda, Md., and from the Festival of Mystery in Oakmont, Pa.. If someone asked me to choose between the events, I'm sure I couldn't. They are very different from one another, but both are wonderful for writers and readers alike. Both are well-organized and staffed by helpful, friendly sort who love to chat with writers.
Scrapbook of Secrets didn't win the Agatha for best first novel. I know everybody says this—and so it appears a little cliche and maybe fake—but truly, I was honored to be on that very short list of authors.
Here they are— with apologies to the photographer for no credit. This picture was going around on Facebook and I could not figure out who the original belonged to.
In fact, I was just thrilled to be in the same space as Louise Penny, Laura Lippman, and so many other writers whose work I've admired through the years. Besides the writers, the readers make the event really magical for me. Imagine someone knowing your characters and your plot and coming up to you and saying "I think Beatrice should do so and so." I mean, really? You can't ask for more than that as a writer.
At Malice, I participated in the famous "Malice-Go-Round."  Authors go from table to table and pitch our books to readers. We are timed and have to keep it within 2 minutes. I had a fabulous partner in Linda O. Johnston, who was also my roomie at the hotel. They say to think of this event as "speed dating for writers" and it is really like that.
Here we all are (once again, I have no idea who this photo really belongs to) :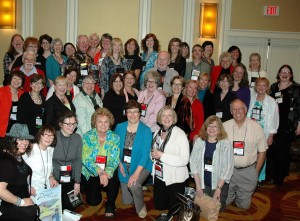 The Festival of Mystery is Pittsburgh is a bit like that , too. It's organized and hosted by the fabulous Mystery Lover's Book Store in Oakmont, Pa. Readers are already lined up to get in to the festival when we arrive. Here's some shots of the crowd waiting outside the building: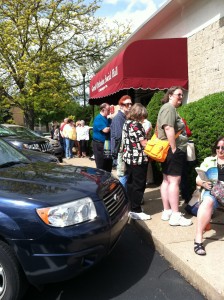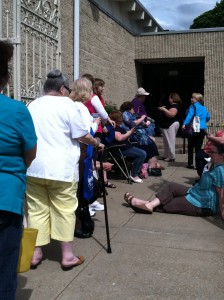 And when they enter, they are eager to chat with writers—and to buy our books. The other part of the festival is that the authors are interviewed on a stage where they, of course, get to talk about their books.
Here's a shot of the audience: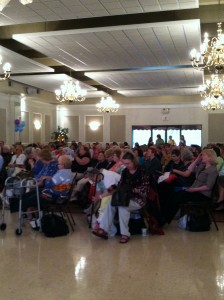 By that time, I was a bit pooped, I must admit, and forgot half of what I wanted to say. But I think I did well—because I signed some books and talked with readers after that.
Connecting with readers is really what events like this are all about. Next on my schedule is a reading with two other mystery authors in Staunton, Va., a neighboring town. Hope to meet more readers there. And after that, New York!