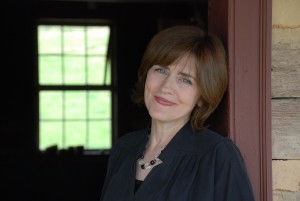 So glad you stopped by! Welcome to my website. You'll find a little of this and that here. A blog. Information about my books. Stuff about me. If you're a member of the press, you can find most of what you need here, as well.
I write the Cumberland Creek Mysteries, which, so far, consists of five books and two e-novellas and a new series, Cora Crafts Mysteries.
All of my Cumberland Creek books focus on your favorite characters from the first book. Annie, Vera, Paige, Sheila,  and DeeAnn are still managing to get together weekly to scrapbook and eat. (And of course, Beatrice!)  Check out all of the wonderful things bloggers, reviewers and readers are saying here.
I've launched a new series—the Cora Crafts Mystery series. The series is set at a craft retreat in the a quaint fictional town, Indigo Gap. The first book is DEATH AMONG THE DOILIES.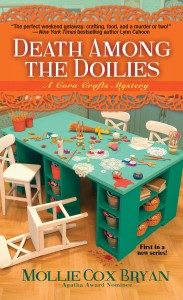 The main characters in the book are Cora and Jane, best friends from childhood, launching a new craft retreat business together. Each book has different crafts and crafters–and different murders, of course. Also, Cora and Jane are younger than my Cumberland Creek characters, so a wee bit of romance is involved.
The book has been very well-received and was selected to be a part of Fresh Fiction's "Fiction Not to Miss" monthly subscription box. A-mazing!
The next book will be out in April, "No Charm Intended."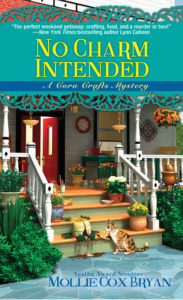 If you're interested in my latest news, along with the occasional craft project, recipe, exclusive short stories, and so on, please sign up for my newsletter, Paper. Story. Recipe. here. You can also sign up on my blog page sidebar. I am available for book groups, libraries, scrapbooking groups, and so on. If you are not closeby, we can have an online event. Don't you just love technology?
Now, I've dipped my toes in to romance. If you decide to try out "The Beekeeper's Bride," you'll recognize the same themes in my writing. Strong women, who happen to be crafters and artists, are front and center.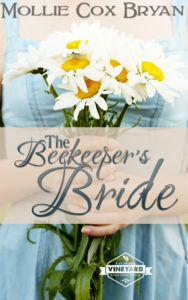 Along with writing my books, I write for hire, along with edit and consult. If you're interested in my services, check me out here. Right now, I'm employed part time as a fact-checker and researcher and write occasionally for them, as well.
Stay tuned!
Mollie